Ariana Brackenbury – Spiritual and Camino Guide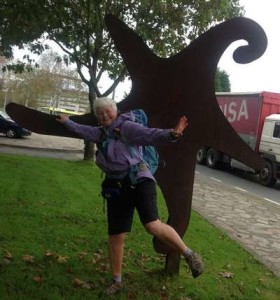 I wasn't just at a crossroads at the lowest point in my life. I would have been grateful for that much direction. I was absolutely and completely lost.
My husband had passed at 62, and his death launched me into a deeper journey of my own mortality, and opening my heart to my spiritual self. Then I lost my savings, my computer programming business slowed to a halt, and finally I lost my beautiful home. I found myself in a place where I had no capacity to even process what was happening to me, let alone what was possible for me. At the age of 60, it was clear that I had no option, but to start over. I just had no idea how I could recreate myself.
Oddly, the answer came while I was lying on a massage table. The therapist asked me if I had ever thought about walking the Camino, and after listening to her tell me about this amazing journey, I immediately knew this was part of my answer. I made a snap decision and found myself suddenly embarking on a 100-day journey backpacking around the world. I called it my Drink Pray Love journey.
The Camino de Santiago has been walked for centuries, by those looking for a deeper inner connection, for answers, and for more clarity in their lives. And that was exactly what I found for myself. By the end of that 800 KM walk, I was deeply reconnected to my spirit, and to my soul. I did not know exactly what was next, but I was filled with a profound sense of peace.
When I came home, I found I had the strength mentally and physically to take on things I'd never considered before. At the age of 62, I took up kickboxing!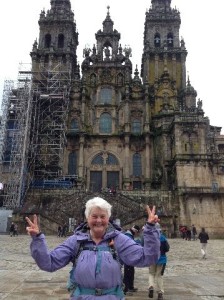 I went back to the Camino in 2013 again, but this time to see through the eyes of a guide. I walked the complete Camino Frances route from St. Jean Pied du Port, one more time. It was a much different trip. I asked for spirit to bring me people I could serve, while I walked that path. I also envisioned what it would be like to lead my own group of people, and help them find their own sense of inner fulfillment, on this journey. That was when the Wisdom of the Camino was born.
And now, you are here. My proof that the spirit listens when you truly reconnect with all that is you.
I know you will find all of that, and more, when you join me for the Wisdom of the Camino.
---
Throughout her life Ariana has been totally open to new experiences and has rolled with the punches by reinventing herself. From librarian to computer guru, to marketing rep, to healer, to singer and now to powerful inspirational speaker and author of the upcoming book "Wisdom of the Camino", Ariana is no stranger to transformation and change. A powerful heart-centred leader and transformational coach, Ariana lives and breathes from the place of "What if". With wit and humour she loves to present examples of what is possible especially when if come to breaking down the paradigms of money, women, and aging. Ariana is known as the "Ya-But Buster" as she does not accept excuses for herself or her clients.
Ariana embodies and combines the energies of wisdom,
playfulness and a little mischief in her new business.