What would it feel like to hit the PAUSE button on your life?
Stopping noise.
Stopping demands.
Easing pressures.
Imagine being in a place free of decisions, phone calls, and task lists.
Experience the Wisdom of the Camino!
A Powerful Journey of the Soul for Those – like YOU,
who are READY for a Great Leap Forward
Now is the time to take a journey to that place of peace.
It's time to come home to yourself.
The Camino de Santiago is a profoundly powerful pilgrimage in Spain and parts of Europe.
For over 12 centuries millions of people have walked the Camino to experience greater clarity in their lives and to know their hearts and souls at the deepest level.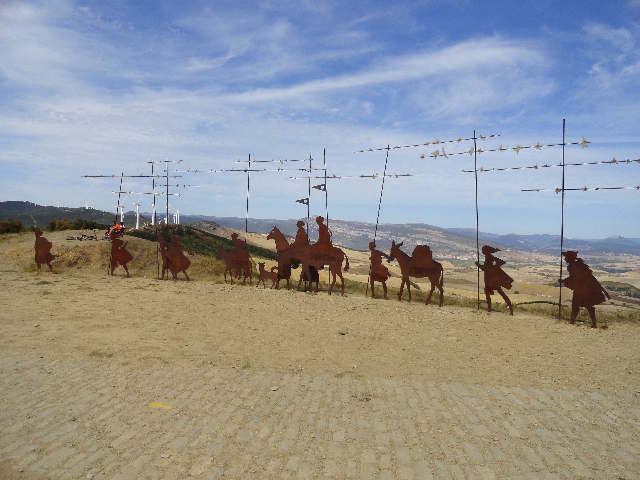 Experience the hill of forgiveness in Spain on the Camino de Santiago
"The journey of a thousand miles begins with a single step" . . . Lao-Tzu
Do any of these apply to you?
☐  At a crossroads and not knowing which direction to go?
☐  Experiencing Burnout?
☐  Sensing that there must be more to life?
☐  Wondering about your legacy?
☐  In supporting others have you lost a sense of who you are?
☐  Is there something calling but you don't know what it is?
☐  Living a life that feels unfulfilled?
☐  Is there a sense of emptiness in your life?
☐  Have your dreams been put on hold?
Is it finally YOUR time ….
To answer your soul's deepest call?
Take a deep breath…. and imagine yourself
on this life-transforming Journey….

Imagine the Benefits…
You'll have a greater sense of peace and clarity
You'll be more deeply connected to the wisdom of your soul
You"ll have tremendous stories to share and memories to savour
You'll be rejuvenated and refreshed
You'll have tremendous stories and memories to share
You'll have a sense of accomplishment at having completed this incredible journey
You'll know that you are able to do so much more than you thought. Be so much more than you might have imagined.
Many People Dream . . .
Few Take Action to Turn their Dreams into Reality
"You do not walk the Camino; the Camino walks YOU" . . .