Our Camino Journeys of the Soul will be limited to a small group of seekers who are fully committed to themselves, to living a more authentic life and to stepping forward into the truth of who they are.

Upcoming guided tours:
5th Spring Camino Frances    
Burgos – Santiago  this year
May 8 – Jun 3 27 days Approximately 480 KM
---
Santiago-Finisterre
Jun 4-10 7 days Approximately 93 KM
---
2nd Spring Portuguese Coastal Route  
Porto – Santiago
Jun 8-23 16 days   Approximately 260 KM
---
Santiago-Finisterre
Jun 4-10 7 days Approximately 93 KM
---
---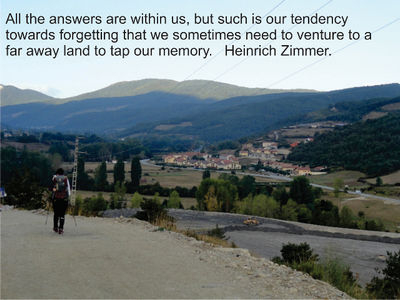 Included in the Camino Tours
Clean, comfortable accommodations and simple continental breakfasts each morning.   A lot of the trip is through small towns in rural Spain or Portugal where the hotel and casa rurales are limited. For the most part you will be staying in the centre of town and close to the Camino de Santiago trail. In some cases in order to supply you with a quality accommodation there will be transportation provided to transport you to a hotel following your walk and return you to the trail the next morning to continue the journey.
No single supplement – you will be matched with a roommate.  Generally we are in double occupancy, on occasions where accommodation is limited in smaller locations you may be in triple occupancy.
Transportation when required to hotels not directly on the route – this will occasionally happen when there are no accommodations available in the town we are walking to.
One-on-one and group pre-Camino support coaching calls for participants. These calls will focus on the mental, spiritual, and physical aspects of walking a long pilgrimage. This walk is a powerful journey that will test your stamina in many realms. The pre-Camino calls are designed to help you prepare in a way that will powerfully enhance the journey. Some calls will be private and some will be group calls. The group calls will serve to solidify the group, and give you a sense of your walking partners before we go.
Emails and texts within 9 am – 8 pm MST for the pre-Camino training period.
A trip leader to support you during the Camino journey.  Your trip leader will have a cell phone to deal with unexpected issues. If necessary transport can be arranged during the day to deal with unexpected issues.
Morning gathering at breakfast each day for check in and setting any intentions for the day.
Post Camino review & integration call.
Pack transfer package.
A welcome package including a guidebook and other items.
 

2018
Camino Frances 27 day  Burgos to Santiago
May 8 – Jun 03 
Your investment is $5,950
♦ ♦ ♦ ♦
Santiago to Finisterre 7 day
Jun 4-10, 2018
Your investment is 1,550
♦ ♦ ♦ ♦
Camino Portuguese 16 day   Porto to Santiago
Jun 8-Jun 23
Your investment is $3,550
♦ ♦ ♦ ♦
Santiago to Finisterre 7 day
Jun 24-30, 2018
Your investment is 1,550
♦ ♦ ♦ ♦
---
Request information/interview using the link below.
All prices in CAD. GST will be added for Canadian residents.
Ask about discounts for multiple participants.

NOT Included in the Camino Tours
Airfare from your place of embarkation to Burgos or Porto.
Transportation from Santiago to your place of embarkation – from Santiago there is good service to Madrid, Paris, London, and other cities for connecting flights
Lunches and dinners on the Camino, incidentals such as water, snacks, toiletries, any medicinal needs, first aid.  Plan on spending approximately $35-50 CAD per day on food and incidentals.
Any taxi or transport services that are not part of the scheduled itinerary.